You can add, remove and update user permissions as well as edit teams from "User management" in the top bar of the giosg console.

Users
Adding new users
Click User management → Users and "+New user" to create a new user, and fill in the email address of the user. This sends a registration link to that email. The link is valid for 48h.
Editing users
You can define the user permissions for each user and edit their information by clicking on a user in the User management → Users list . If no permissions are given to a user, they will only be able to chat in the giosg console (if chat is used).
The permissions that can be given are:
- Settings (also gives access to Interaction builder)
- Reporting
- Users (User management)
Clicking on a user in User management → Users also allows you to edit their information such as email, alias name and profile picture.
Deleting users
You can also delete users in User management, and set them offline in the chat if needed.
Deleted users are not removed from the reporting, so you will be able to see their chats and chat presence stats also after deleting them.

Teams
Teams make it easier to manage your users and define your routers. Click User management → Teams to access, create and edit teams. A user can belong to several teams.
Teams also come in handy in chat invites, as they allow users to send invites to the whole team instead of an individual user. When inviting a team to a chat, all of its members are alerted and one of them can then join.
Teams in networked accounts
If your organization's giosg account has been networked (by giosg support) with a partner's account, you can invite the partner's teams to your chats and vice versa. Choose which teams the partner can see and invite by sharing the team from User management → Teams → Choose team.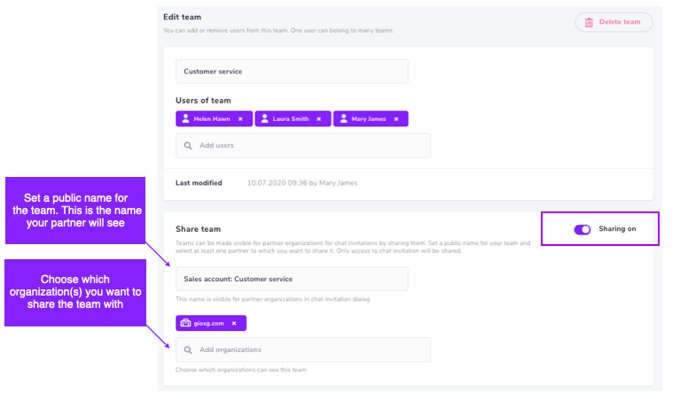 Can't see User management in the top bar of your giosg account?
In that case you have not been given the needed permissions, and need to contact one of your colleagues that is managing your users right now. They can then give you access.