With giosg Goals you can monitor how your Rules are performing.
The rules in your account are all created to achieve a specific goal. For some it can be purchased carts, for others the goal may be more newsletter subscriptions. The rules reporting combined with giosg Goals can be used to monitor how your rules are performing.
Creating goals
Goals are created from Settings → Goals. Goals consist of conditions and hence the logic is very similar to Rules and how they work. Define the conditions that make up your goal, and choose if the goal should be tracked in all rooms or only in some.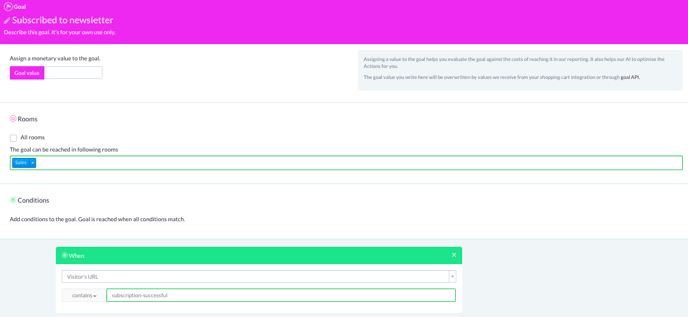 Goals in interactions
It is also possible to set views in interactions as goals, and monitor how many times a view has been seen. You can create view-specific goals, or use the same goal for several views.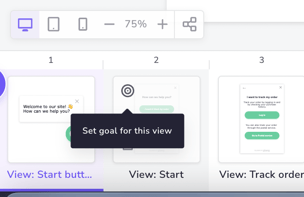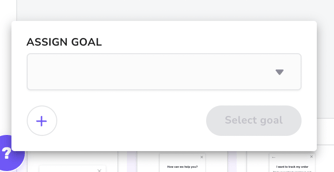 Remember to republish the interaction when a goal has been assigned to a view!
Monitoring goals
When you have created the Goal you can see it in the Goals list and can monitor it from the reporting. Use the "Rules and Goals" reports to see how your rules help you achieve your goals.

The total impressions numbers tell you how many times the rule has been activated, which tells you which rule is being triggered the most. You can also see how many of the visitors that were subjected to a rule then went on to achieve a specific goal. For example, how many of those that received an autosuggest started chatting, or how many of those that saw a popup purchased.
Goals can also be tracked in Google Analytics. Read more here.
If you want to take optimizing your set up to the next level, why not try A/B testing? Read more about A/B testing here.